75th Anniversary of VE Day in the New Forest
PUBLISHED ON: 6 MAY 2020

This Friday we'll be stringing up our Union Jack bunting and celebrating the 75th anniversary of VE Day from our homes.

VE Day, or Victory in Europe Day, marks the day of 8 May 1945 when the Allied forces accepted Germany's surrender in WWII.

For those with a little more time on their hands than usual this VE Day, we've recorded a new podcast featuring some fascinating accounts of the war and VE Day from New Forest residents.

In the podcast, our New Forest National Park Authority archaeologists Gareth Owen and Lawrence Shaw are joined by historian Stephen Fisher to discuss the role the New Forest played in WWII, the impact of the war and its legacy.

Its strategic location on the south coast meant that the New Forest was crucial in a range of operations and was home to a wide range of airfields, camps and installations.

The Second World War left a large impact on the ground, with visible outlines and remaining areas of buildings and structures leaving a tangible, physical connection to past events. Much of the New Forest's WWII infrastructure remains just below the surface, including airfields, bomb test ranges and D-Day embarkation harbours.
My dear friends, this is your hour. This is not victory of a party or of any class. It's a victory of the great British nation as a whole. Winston Churchill
The first VE Day was full of celebrations and street parties but also hugely sad for many, as they remembered loved ones lost in the conflict or still fighting abroad.
Our podcast contains accounts from seven people who remembered that day on May 8, 1945: Brian Brown, Evelyn Ramseyer, Brian Gittoes, Ron Ricketts, Barbara Brown, Edith Daniels and Rose Daniels. The audio clips were recorded in 2014 as part of a Heritage Lottery-funded project called New Forest Remembers, which researched and recorded the archaeology, history and personal memories of the Forest during the Second World War.
Listen to our VE Day 75th Anniversary Podcast
Photographs from the Forest
The following two photographs from VE Day in 1945 are courtesy of St Barbe Museum and Art Gallery in Lymington. Do you have any photographs from VE Day in the New Forest you'd like to share? If so, please
get in touch
.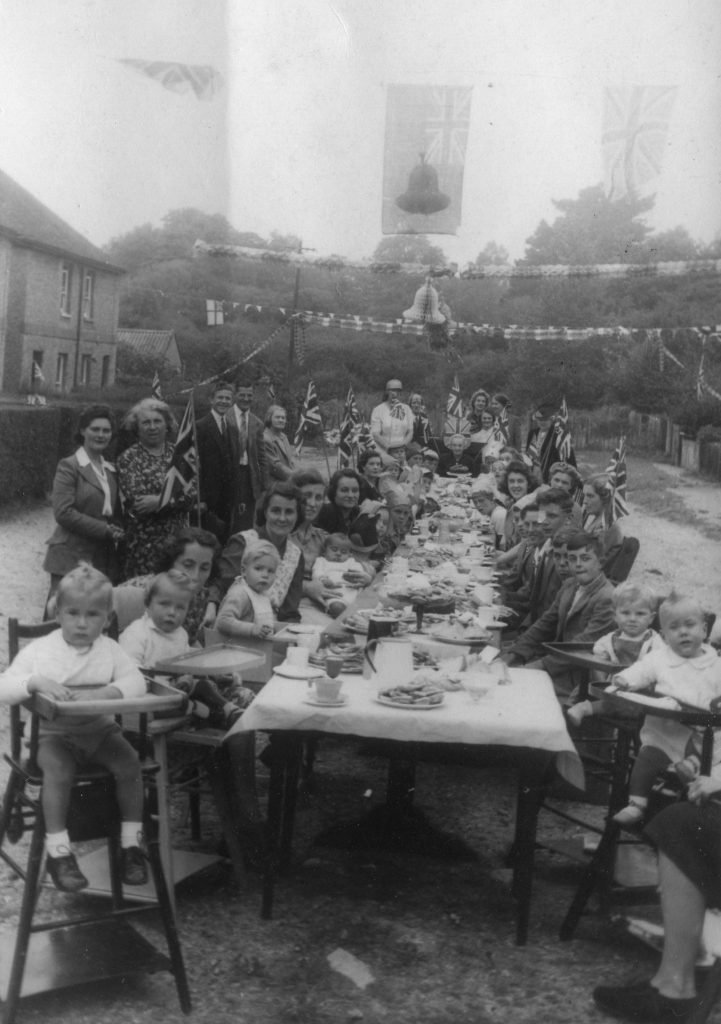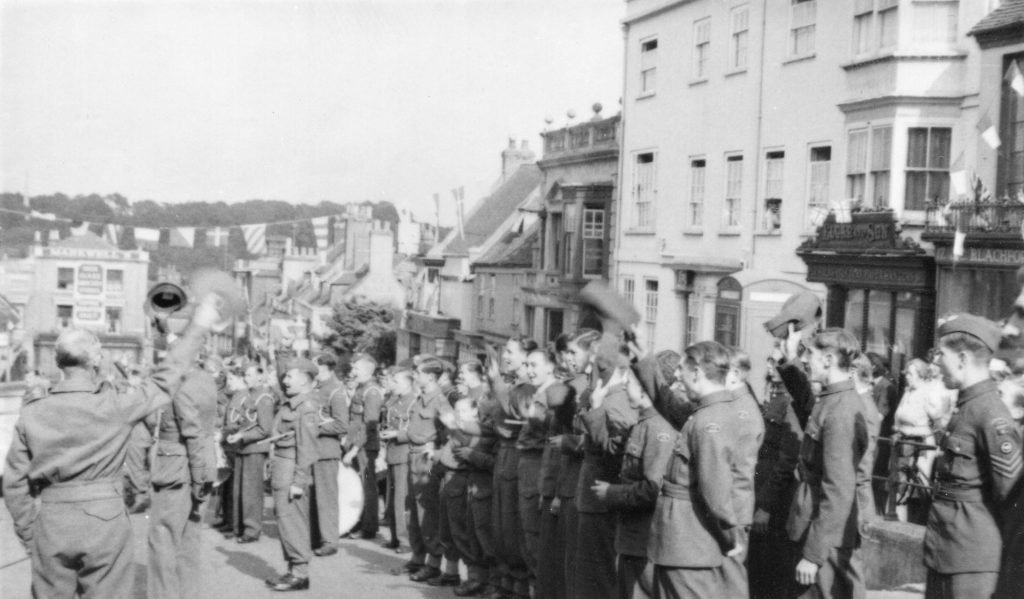 New Forest Remembers
If you enjoyed our VE Day podcast, why not listen to our series of D-Day podcasts, which were recorded for New Forest Remembers and feature the memories of those that lived, worked and played in the Forest in the build up to D-Day?
More memories of VE Day from New Forest Remembers
It finished up with a lot of drunk servicemen, letting off thunder flashes and rockets and then, they'd light a bonfire, say by the Angel Hotel in Lymington, and then the fire rigade would come and put it out. Brian Gittoes, Lymington
Well, it was my first dance. I had several dances with different people, feeling very grown up, as I was only 13. It was all nice music, like Glen Miller type music that I liked. Doreen Biles, Ringwood
All the way through the high street they assembled all these tables and chairs and we all had jelly, blancmange and all that. Where the women got the food from I shall never know, and a lot of people never knew, but they managed it somehow and we had a really good time. Keith Gerard, Milford on Sea
We had a huge bonfire on the village green at Milford and that was, you know, a tremendous occasion because it was such a relief. Maureen Losmark, Milford on Sea
From our offices, which were fairly high up, you could see right over the docks to the liners, and the original Queen Mary and Queen Elizabeth took it in turns coming in as troop ships. VE Day was declared and I remember either the Mary or Elizabeth sounding out their horns and all the ships hooting for absolute joy that it was all over. Margaret Seeley, Southampton
They had the victory party for VE Day in Frogham. They had the usual cakes and fancy dress and all that nonsense. There was so much celebration going on and all that nonsense that you tried to forget that you still had to go back before VJ Day came. Ron Ricketts, Frogam
Anybody who had any homemade wine and got hold of any alcohol, they had a good session. The pubs were drunk dry. No doubt about that. It was a hell of a relief, there's no doubt about it.  Walter Elsworth, Beaulieu
T B James
The song featured at the end of our podcast is called 'T B James' and was written by New Forest resident Steve Adams. He wrote it in response to tree graffiti he saw in Pondhead Inclosure, which is thought to have been carved by American GIs in 1944.
Steve said: 'I was told that the GIs were camped all around that area in the preparation for the D-Day invasion of June 1944. Most of the carvings have disappeared or become obscure but one remains very clear, it says 'T B James 1944'.
'I was quite moved by the thought of this unknown American soldier, probably only 18 or 19, thousands of miles from home, knowing that the invasion was imminent but probably very uncertain about what lay ahead. To me this mark he had left in our Forest seemed to be a fitting symbol, a special memorial for all those young men who stayed here before putting their lives on the line, many of whom would never see home again.'
Steve recorded the song with Sarah Fargher and it is available on Sound Cloud.

WWI and WWII history
A wealth of historical documents, photographs, oral histories and more documenting the role of the New Forest during both WWI and WWII is available to the public through the New Forest Knowledge website.
In 2016, two WWII occupants of Setley Plan Prisoner of War Camp 65 returned to the New Forest after 70 years. Watch them return to the site near Brockenhurst and hear their incredible stories here.